I'm participating in The Undomestic Momma's "Top 2 Tuesday" for the first time! :) Today it's is your favorite two things that are under $15.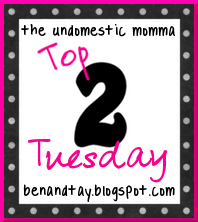 #1) Target jewelry and accessories - I love Target jewelry!! It's inexpensive but always sooo cute and stylish. I love long necklaces, earrings, and hair things.
#2) Sonic Diet Coke with Vanilla - heavenly! It's only $2 for a large and it lasts me all day. Diet coke in general borderlines on addiction for me (like Starbucks for some), but at least it's diet and has zero calories, right?! ;)
Head over to
The Undomestic Momma's
and play along! :) Happy Tuesday!