Keeping in line with my goals of losing more weight, I signed up for another 5K on April 3rd!
Click here for more info on the Downtown Melbourne 5K
This race benefits The Haven For Children, a group home that we work with at our agency, Brevard Family Partnership. The Haven shelters children ages 0-9 who are no longer able to live in their homes. I'm excited for this one! I think my friend Heather is going to run with me.
I ran 2.3 miles on Monday and 2 miles today! Gotta bump it up! :)
Oh, I was so *good* last night too! I called Eric on the way home to ask what he wanted for dinner (gave him the options) and he says, "Hmmm, I think I really want pizza. Like, Papa Johns." OMG! No wonder I've been gaining weight! LOL. I told him he could order whatever he wanted and I'd have leftovers,which is exactly what we did. I asked him to "order something I won't like" (which was a Supreme) and it worked. I didn't eat pizza, but had healthy leftovers! Go me! Heheh.
Oh yeah, Happy St. Patrick's Day! Anyone gonna have some green beer tonight? We're probably (ok, definitely) not going out, but it would be cool if I could buy some at the store and bring it home... anyone know if that is possible?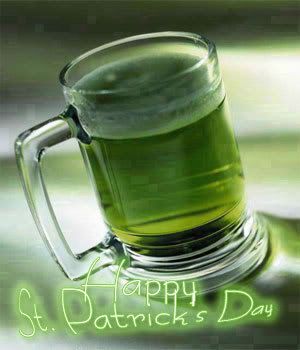 UPDATE:
Nevermind! I read how to make green beer online - super easy! Just start with a light beer and add a few drops of green food coloring! DUH! :) Can't wait to try it tonight.